18ct Gold Elephant Hair Bangle Ladies
A long time ago in Africa, different people from all over the continent wore bangles made from the hairs of the mighty elephant. The traditional African elephant hair bangle embodies the bull elephant's strength, courage, and wisdom. Ancient craftsmen of Africa fashioned a bangle from the long hairs of an elephant's tail as a trophy proving the hunter-warrior's skill and daring. It is worn as a mark of prestige and given as a gift of love, brotherhood and good luck. The power and majesty of the African elephant was thought to imbue the expandable bangle with almost magical properties.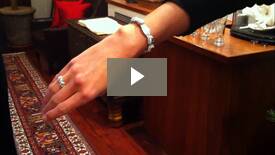 Read More
18ct Gold Elephant Hair Bangle Ladies
Complimentary Worldwide Delivery on all Orders Over £200
United Kingdom
Complimentary collection from our London flagship store
Complimentary standard delivery on all UK orders (1-2 days)
Express
£10.00 Pre-12pm next day (order by 2 pm)
_________________________________________________
Europe
Complimentary standard delivery on orders over £200 (2-4 days)
£10.00 for orders under £200
Express
£20.00 for next day (order by 2pm)
__________________________________________________
United States of America
Complimentary express delivery on orders over £200 (1-2 days)
£15.00 for orders under £200
If your selection is not in stock, we will inform you within 24 hours and an order will be placed that will be dispatched to you within three weeks.
Each piece is lovingly handmade in our studios in Africa and we promise it will be worth the wait!
At Patrick Mavros, everything is charmingly human. Here nothing is automated.
Each piece is lovingly made by hand in our studios in Zimbabwe and Mauritius, then packaged with the greatest care and shipped to our London flagship emporium.
If you shop at our online store, your order lands on Alexander Mavros' desk in London and is given to Adam, the emporium manager – and his team – to complete.
They personally select your piece, polish it by hand, wrap it in our signature wrapping paper adorned with silver foil elephants, crown it with a colourful silk bow, hand write the optional gift message and prepare it for shipping.
All with care and sincere thanks for your support. Each owner of a Patrick Mavros piece is part of our wider family so please keep in touch as we love to hear what adventures it gets up to over the years.